YINW CASINO NIGHT
Saturday, February 12, 2022
•
11 Adar I 5782
8:30 PM - 11:55 PM
YINW 634 HUNGRY HARBOR ROAD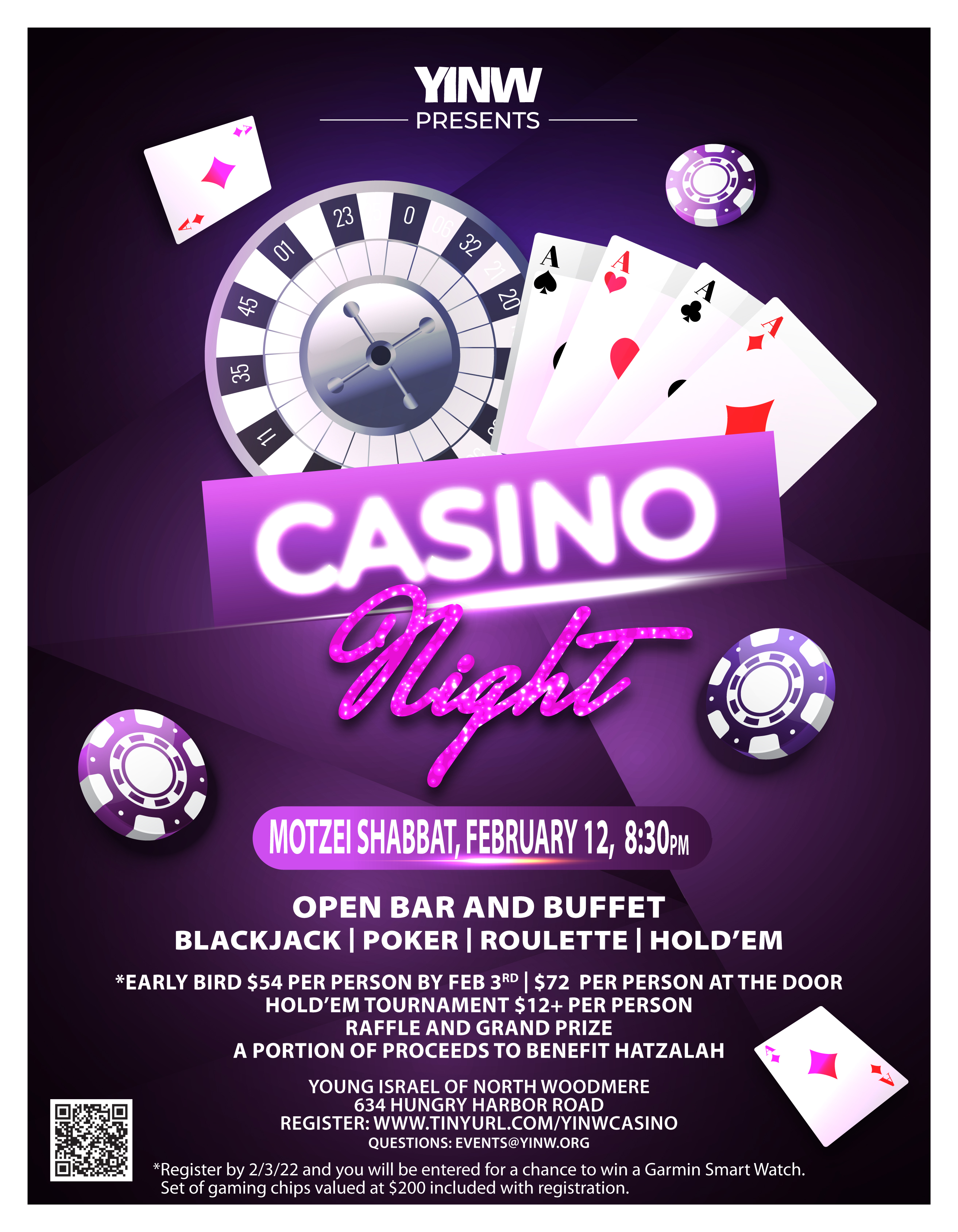 Early Bird Registration Fee (through Feb 3)
Registration Fee $54 per person (includes 200 gaming chips)
Registration Fee (after February 3, 2022)
Registration Fee $72 per person (includes 200 gaming chips)
Hold'em Tournament Entry $12 per person
$25 for each 100 Additional Gaming Chips
Sponsorship Opportunities:
Gold: $180: Includes 2 admissions, 2 poker entries, 150 extra gaming chips and 10 raffle tickets ($220 value)
Diamond: $250: Includes 2 admissions, 2 poker entries, 250 extra gaming chips and 20 raffle tickets ($307 value)
Platinum: $360: includes 2 admissions, 2 poker entries, 500 extra gaming chips and 30 raffle tickets ($432 value)
Raffle
1.) 25 gaming chips = one raffle ticket
2.) Raffle tickets can also be purchased for $10 each.
3.) Redeem gaming chips for raffle tickets any time throughout the night.
4.) The raffle drawing will be held at the conclusion of evening.
Gaming chips must be converted into raffle tickets. Gaming chips have no cash value.
Sorry, Registration has ended.
Share Print Save To My Calendar
Wed, May 25 2022
24 Iyyar 5782
Today's Sefirah Count Is 39
היום תשעה ושלשים יום שהם חמשה שבועות וארבעה ימים לעמר
Today's Calendar
---
This week's Torah portion is

Parshas Bechukosai
Candle Lighting
Havdalah
Motzei Shabbos, May 28, 9:06pm
Shabbos Mevarchim
Zmanim
Alos Hashachar
3:48am
Earliest Tallis
4:30am
Netz (Sunrise)
5:30am
Latest Shema
9:11am
Zman Tefillah
10:25am
Chatzos (Midday)
12:52pm
Mincha Gedola
1:29pm
Mincha Ketana
5:10pm
Plag HaMincha
6:42pm
Shkiah (Sunset)
8:14pm
Tzais Hakochavim
9:02pm
More >>
Wed, May 25 2022 24 Iyyar 5782